NY State Inspections
at Joe Cecconi Chrysler Complex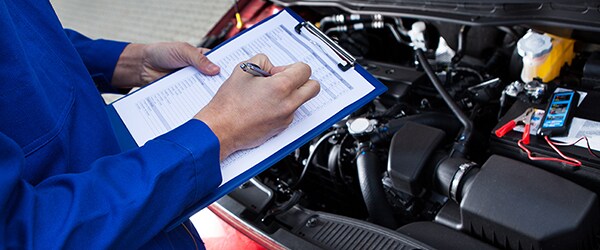 Schedule New York State Inspections Here in Niagara Falls, NY
The state of New York requires that you bring your vehicle to an authorized service center for a safety inspection once a year to ensure that your car is in good enough shape to be on the road. Here at Joe Cecconi's Chrysler Complex, we can take care of all your New York state inspection needs right here at our service center. So, if your state inspection is due in Niagara Falls, NY, please feel free to get in touch with us here at our dealership!
To learn more about the steps are taking to keep our staff and customers safe and healthy, please click here. You can also call (716)297-5800 to schedule your NYS inspection appointment, and ask about our vehicle pick-up and drop-off service.
When do you need to get a New York inspection?
All New York vehicles are required to get a state safety inspection once every 12 months. The sticker on your car indicates when the last time you got an inspection was and when the next one is due. Of course, if you have any trouble figuring out if your car needs a state inspection, you're always free to ask us. We'll happily help.
What does a state inspection entail?
State inspections look over major and minor components of your vehicle such as the engine, brakes, electrical components, steering, and more to make sure that your car doesn't have anything wrong with it that could be considered a safety hazard. Annual state inspections help to mitigate unsafe situations on the road.
How can I schedule a New York state inspection in Niagara Falls, NY?
Joe Cecconi's Chrysler Complex is here for you! To schedule a state inspection, all you need to do is contact us to make an appointment. Our team of experts can conduct a thorough inspection and help you get that inspection sticker so that you'll be good to go until the following year.
If you have any other questions, please don't hesitate to reach out to our team!
Hours
Monday

09:00AM - 08:00PM

Tuesday

09:00AM - 08:00PM

Wednesday

09:00AM - 08:00PM

Thursday

09:00AM - 08:00PM

Friday

09:00AM - 06:00PM

Saturday

09:00AM - 06:00PM

Sunday

10:00AM - 03:00PM