Oil Changes
at Joe Cecconi Chrysler Complex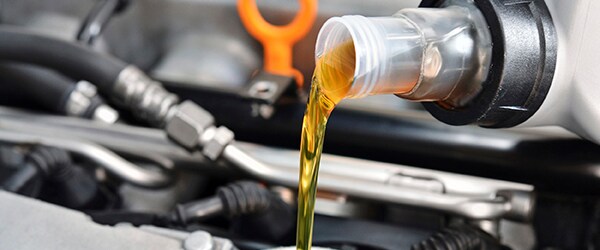 Improve Engine Longevity with Oil Changes in Buffalo, NY
Keeping your engine in great shape is essential to improving the overall health of your car. Fortunately, one of the most basic maintenance items is also one of the best things you can do for your engine! Oil changes help to improve the performance and longevity of your engine, and you can count on our service team here at Joe Cecconi's Chrysler Complex to handle them for you! Oil changes are a cinch for our experts, and we'll get you in and out for an appointment fast.
We are working every day to sanitize our entire dealership and each and every vehicle that visits Joe Cecconi's Chrysler Complex. If you would rather not visit our dealership during this time, we understand. That's why we're offering home pick-up and drop-off service appointments. 
Call (716)297-5800 today and ask about our vehicle pick-up and drop-off service for oil changes in Buffalo and Niagara Falls, NY.
We're sorry, we do not currently have any specials published. Please check back soon or contact us for more information.
Why does your car need oil changes?
Oil's primary purpose is to keep your engine's fast-moving metal parts lubricated to reduce wear and tear. As time goes on, however, oil breaks down and can become contaminated, which dampens its effectiveness. So, your car needs regular oil changes to keep your engine parts from wearing out prematurely.
How often should you schedule an oil change?
Most modern vehicles that you find on Niagara Falls, NY roads need an oil change every 5,000 to 7,500 miles or so, or every six months (whichever comes first). You can tell your car is due for an oil change by checking the oil change sticker on your windshield. You might also notice a dashboard warning light that indicates that your car needs an oil change.
Contact Us
If you're not sure if your car is due for an oil change, you can always give us a call. We'll be happy to help. Neglecting oil changes can lead to problems like premature engine wear, rough idling, and more, so it pays to stay ahead of the game.
Our team is happy to help with all your oil change needs, so please don't hesitate to give us a call if you have questions or you want to set up an appointment!
Save on Oil Changes in Buffalo and Niagara Falls, NY
This April, all Buffalo and Niagara Falls customers can save $20 off their next oil change at Joe Cecconi's Chrysler Complex!*
Hours
Monday

09:00AM - 08:00PM

Tuesday

09:00AM - 08:00PM

Wednesday

09:00AM - 08:00PM

Thursday

09:00AM - 08:00PM

Friday

09:00AM - 06:00PM

Saturday

09:00AM - 06:00PM

Sunday

10:00AM - 03:00PM