Brake Service
at Joe Cecconi Chrysler Complex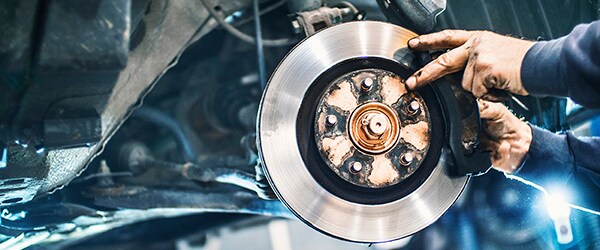 Keep Your Brakes Strong with Regular Brake Service in Niagara Falls, NY
Hitting the road in Niagara Falls, NY is one thing, but your car's going power is only as good as its ability to stop and slow down. Luckily, tending to your brakes is one of our specialties here at Joe Cecconi's Chrysler Complex. So, whether your car is due for brake service or you're curious about how to tell when your car's brake system needs attention, we have your back at our service center.
Please click here to learn more about all of the steps Joe Cecconi's Chrysler Complex has taken to help ensure the health and safety of all of our customers and employees. We understand many customers have concerns about being in public at the moment. That is why we are offering home pick-up and drop-off for brake maintenance and repair appointments in Niagara Falls and Buffalo, NY.
Please call (716)297-5800 today to schedule your brake appointment and ask about our vehicle service pick-up and drop-off program.
We're sorry, we do not currently have any specials published. Please check back soon or contact us for more information.
Why service your brakes at our service center?
Like any other parts in your vehicle, your brakes wear down over time. Inspecting and servicing them regularly helps to maintain your car's stopping power so that you can enjoy a safer driving experience that inspires confidence. Our service center is equipped with the proper tools and staffed by professional technicians who will take great care to make sure your brakes are in excellent condition.
How can you tell when your brakes need service?
It's best to have your brakes inspected regularly so that our team can spot potential problems before they turn into a safety hazard. We also recommend keeping an eye out for these symptoms:
Car pulling to one side when you brake
Spongy or soft gas pedal
Screeching, squealing, grinding, or growling noises upon braking
Less than a quarter-inch of pad material left on brake pads
These are all signs that your brakes need attention, so please be sure to give us a call if you notice any of them. We'll be happy to repair your brakes so that you can get back on the streets of Niagara, NY safely.
Save on Brake Repairs in Buffalo and Niagara Falls, NY
Buffalo and Niagara Falls, NY drivers can save on brake repairs at Joe Cecconi's Chrysler Complex. This April, replace your brake pads and rotors for $299 per axle.*
Contact Us
Ready to make a brake service appointment? Have any questions about your brakes or how to take care of them? Feel free to reach out to our team! We're here to make sure that your car runs smoothly and safely, and we look forward to serving you.
*On most new vehicles. Deal valid through 4/30/20.
Hours
Monday

09:00AM - 08:00PM

Tuesday

09:00AM - 08:00PM

Wednesday

09:00AM - 08:00PM

Thursday

09:00AM - 08:00PM

Friday

09:00AM - 06:00PM

Saturday

09:00AM - 06:00PM

Sunday

10:00AM - 03:00PM